You now have the possibility to buy Transcash top-ups online. In addition to the points of sale (tobacconists and newsagents), you can purchase top-ups with a credit card or prepaid one directly from the website. In few minutes, your Transcash Mastercard® is credited. You'll tell us "what's the gain for me?", so we tell you everything: follow the guide!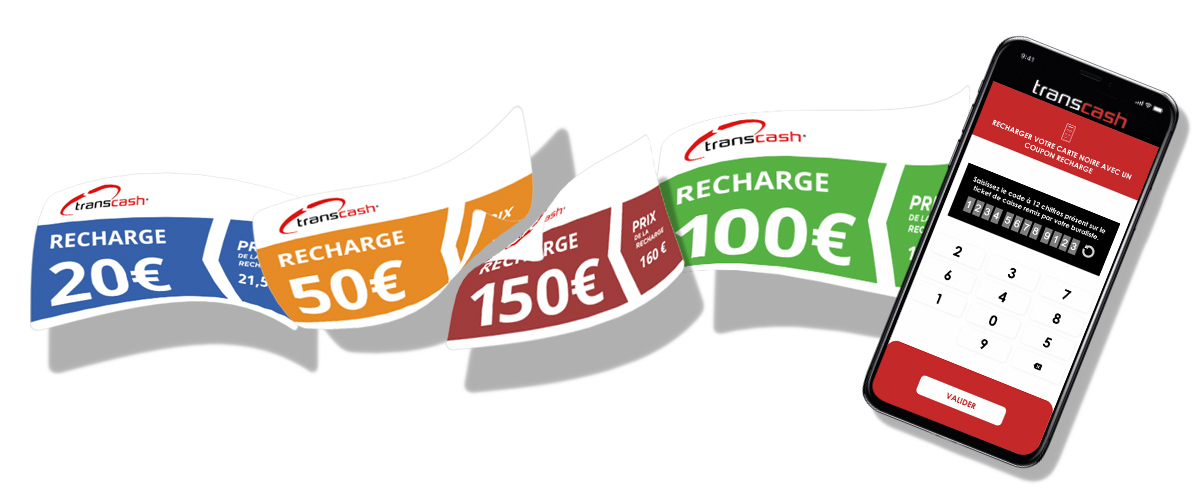 Whats is a Transcash Top-Up ?
It's a ticket to reload your Transcash Mastercard online
The reloadable prepaid card solution from Mastercard networks allows a flexible and bankless use at Transcash.fr. It can be credited by various means: credit card, wire transfer and top-up. These "tickets" are purchased with a value in euros, which is then loaded onto the card.
Several values are available on Transcash Recharge, ranging from €20 to €150. You just have to choose the amount you want and add to cart. Once validated, you will receive your code by e-mail or SMS (depending on the delivery method chosen) to load the card.
The top-up has multiple advantages:
Credit several cards: your black card, a friend's or a family member's
Load your card anywhere in the world
Buy in total discretion
Get your Transcash Mastercard thanks to the top-up, and reload it at the same time
Please note: it's not a direct payment method, it is used to load a Transcash Mastercard! You understand now that to use them, you need to order Transcash Mastercard.
Is there a difference between top-up, ticket and code ?
A top-up or a ticket means the same when it comes to prepaid Transcash Mastercard. Originally printed and available at tobacconists, it presents a predefined value to be reloaded on the card. It is now available online on transcash-recharge.com.
This ticket or top-up displays a unique code used to load the prepaid Transcash Mastercard. In a few words: without code, no card loading and without top-up or ticket, no code to load!
Transcash Recharge guarantees the Best Price on the web
A price that defies all competition
You buy your top-up(s) by credit card. The price displayed in euros is the same as in the points of sale, without additional charges. Transcash-recharge.com being the official website, it offers unbeatable prices compared to reseller websites: it's the best price offered on the Internet!
Why that? Transcash top-ups online resellers include additional commissions or service fees because they act as an intermediary. When you buy on this website, you are directly dealing with us.
No hidden fees at check-out
Beyond the price of the top-up, some sites apply fees at the time of the order validation, they are called here "hidden fees". The price then increases, including extra costs for you than only the price of the ticket you pay.
The transcash-recharge.com website presents a clear offer displayed even before the shopping cart. Since you go through the official website for Transcash top-ups, you get the best price: it's a complete win for you!
A Top-up paid Quickly and Safely
Your Transcash Mastercard reloaded in few minutes
To make your purchase, the operation is fast, here are the main steps to do it:
Choose your top-ups and add to cart
Pay by credit card in 3D Secure
Get instantly the code once your payment has been validated by SMS or EMAIL (reception mode to be chosen at the time of payment)
Enter the code connecting to your customer space or the app
You can then use the codes received to reload your international prepaid Transcash Mastercard. The balance of your card is immediately adjusted and allows you to make purchases online and in stores, withdraw cash in France and abroad, manage your children's pocket money and transfer money between cards.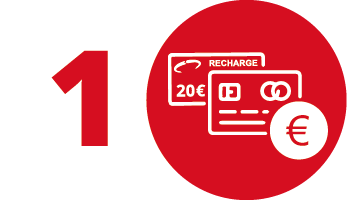 I buy my top-up with my credit card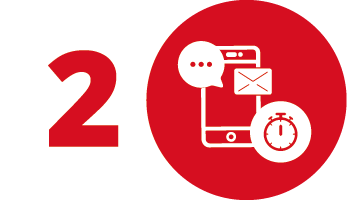 I receive the code by email or SMS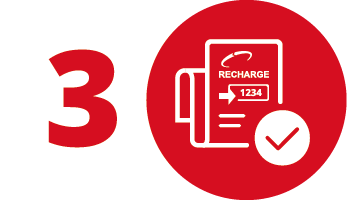 I get to my customer space and enter the code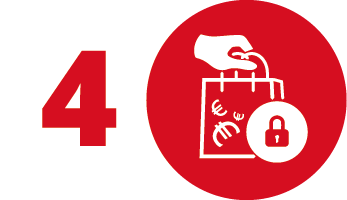 I use my prepaid Transcash Mastercard online or in stores safely.
3D Secure payment
The 3D Secure payment ("3 Domain Secure") refers to a security protocol developed by the Mastercard and Visa networks to prevent Internet fraud. Indeed, if a malicious person has managed to obtain your card number and PIN code, you are not warned of his possible transactions. There are several tips to follow to avoid the risks of piracy!
The cardholder receives a password to validate the transaction. The authentication methods vary depending on the financial institution. At transcash-recharge.com, you receive a password by SMS, watch for it to arrive and everything should work to validate the purchase…
Top-ups Transcash, it's your best plan to load your card!
Transcash top-ups allow you to credit your Transcash Mastercard in a simple, fast and secure way. The transcash-recharge.com website offers you the best price online to enjoy the prepaid bank card service and its benefits. Discretion, reloading on several black cards (your own or a relative's), payment of a reload and a pack at the same time, controlled budget… You just have to take full advantage of your card to buy online or in store thanks to the top-ups!